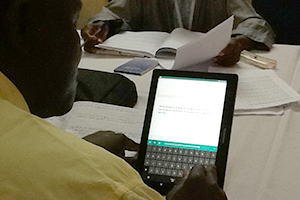 This is an unbelievable opportunity!
Word has spread about innovative Bible translation resources—computer tablets and training to use them in translation—and now, the local church is thrilled because national Bible translators no longer have to wait to have God's Word in their heart language.
For generations, they have relied on outsiders to come translate Scripture, but tablets—packed with translation resource libraries and the necessary translation software—allow passionate believers the opportunity to do the translation work!
Tablets are small, mobile, and quiet. They allow translators to work safely, without attracting attention, even in highly persecuted areas. They also allow translators to upload, store, and protect their work from hostile authorities!
In the coming year, we need to provide 2,000 tablets . . . please give now to equip national Bible translators with computer tablets and software so they can translate the Scriptures themselves.
A computer tablet pre-loaded with translation software only costs $300.
And when you give today, your gift will be matched—up to $225,000—doubling your gift for Bible translation and reaching even more language groups with God's Word. 
These tablets are the key to helping communities trapped in spiritual darkness finally know that God speaks their language!
Please give a generous online donation right now to help give them God's Word.