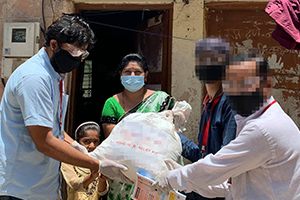 India's surge in COVID cases has pushed hospitals beyond capacity. Sick and dying people are being turned away because there are not enough resources to treat them.
Among those suffering intensely are national Bible translators . . . our partners who have worked tirelessly to provide God's Word to their people in their heart language. These faithful friends confirm that their translation efforts have stalled in the face of so much chaos and tragedy.
The pain and suffering are immense. One partner shared that he has lost ministry partners, family members, and that his only son has been hospitalized with COVID-19 complications. We are praying for his healing.
Your help is needed now.
Please unite with us in prayer for our brothers and sisters in Christ—pray their faith remains a beacon to others and that God will use this painful time to draw unreached hearts toward Him.
And please make a gift now to help reach those suffering with critical resources through the Emergency 911 Fund.
Your support will help meet the critical needs of Bible translators in India and around the world so they can share their faith while pursuing the Bible translations that are needed now.
Thank you for giving now to provide help, hope, and emergency resources for people who are committed to translating God's Word but who are now fighting for survival.