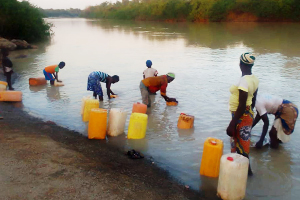 In parts of Africa without clean water sources, the people live in terrible risk of death from dehydration or disease spread by dirty water.
These regions are home to pockets of Christians who are asking Wycliffe Associates for the tools and training they need to begin translating God's Word into languages where they have never existed before . . .
But we cannot simply give Bible translation tools to the Christians of Africa while they lack access to the water they need to survive—especially when their water source is dirty and full of diseases.
Please give now to help drill wells and install clean water systems in a refugee camp and other regions of Africa where translation projects are under way or will soon launch. Our prayerful goal is to raise $85,000 to provide clean water quickly in these areas.
We have seen what happens in a water-starved community when we provide tools for Bible translation and drill a well to provide clean water. The well becomes a community gathering place, a place of celebration where the Good News can take root in every heart.
Thank you for giving generously now to our Emergency 911 Fund to provide more life-sustaining clean water for generations to come . . . and the great gift of God's Word, which will provide life-giving hope for eternity.