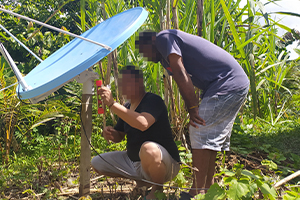 In Southeast Asia, many believers are enduring vicious oppression and intense hatred. In one unnamed country, Christians have been attacked by hostile religions, mutilated, homes torched, churches demolished.
And in many regions, authorities keep internet access and communications technology from reaching Christian populations. They're kept in the dark, isolated, trapped in virtual darkness—simply because they are followers of Jesus. Despite their suffering and the great risk, these believers are asking for help because they still do not have a Bible in a language they can understand.
You can give them the help they need with a BTAK—a Bible Acceleration Translation Kit—which includes a computer with translation software and a satellite connection, router, and modem to get around internet surveillance by hostile authorities. There's also a solar-powered generator, so even in a place where electricity is spotty, national Bible translators in local churches can connect to the web to collaborate, access translation resources, and safely store their work in the cloud.
Right now, 15 language groups are asking for BTAKs. These people have never seen a Bible in the language of their hearts, but a $2,500 BTAK can change that!
Your gift today will be an answered prayer for people who have been praying and hoping for generations to read, study, teach, and share God's Word in their own heart language.
Thank you for partnering with us now to raise the $37,500 needed to equip Christians for Bible translation in difficult, dangerous parts of Southeast Asia!