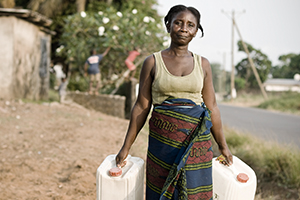 In parts of Asia and Africa, where national Bible translators are laboring to give the Scriptures to their people in a language they can understand, a crisis threatens . . .
Dirty water. For many villagers, there's little or no clean water available to them—only filthy, disease-ridden water. The hike to fetch water can take hours and entails hauling heavy water jugs by foot over difficult, dangerous terrain. Usually the chore falls to the mother, or a daughter.
Even for believers, when every day is consumed by the quest for clean water, there is little time or energy left to pursue God's Word. But it doesn't have to be this way! 
Your gift today can end the heartache and provide the life-giving gift of clean water to national Bible translators and their communities . . .
Please make a gift to equip teams with tools and training to dig water wells and build clean water systems for their villages. Not only will this outreach end suffering and save lives, a clean water source becomes a hub for an entire community . . . a place where believers will share the newly translated Word of God with their friends and family members!
Seven language groups need clean water. It will take a total of $110,000 to equip these national Bible translators and their communities with the tools and training they need to establish water wells that will provide life-giving clean water—along with the Living Water of God's Word.
Please give generously to share Living Water in communities that hunger for a Bible in their heart language . . . and the clean water they need to survive and thrive.