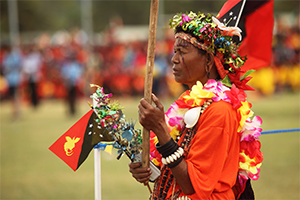 Papua New Guinea, or PNG, is an isolated nation where entire people groups have lived for centuries with little or no contact with the outside world.
These are places where revenge killings and witch doctors are real things . . . for some, their only "spiritual life" consists of demonic rituals and black magic. Their cultures are plagued by hatred, and tribal conflict rages in one bloody slaughter after another.
Enslaved by the enemy, there is only one hope for the people of PNG—God's Word. But so many of these people have never seen a Bible in their own language . . .
Today, despite many challenges—including difficult terrain that makes travel impossible, a global pandemic that has devastated the people and nation of PNG, and the ongoing violence of warring tribes—God has opened a door to launch Bible translation projects for five language groups.
Please make a gift to help equip Christians in five language groups in PNG to translate the Scriptures into the heart language of their people. To begin translation in one new language takes just $19,500. But to launch all five projects means we need to raise a total of $97,500.
The believers in these regions are ready to start now. So please give generously to launch the Bible translations that will lift people out of spiritual bondage and allow the power of God's Word to transform whole villages!
Like you, these isolated Christians know God's Word is the only hope for their people. Thank you for giving to provide the tools and training that will deliver God's Word to the people of PNG in a language they can wholeheartedly understand, study, and share with the unreached.