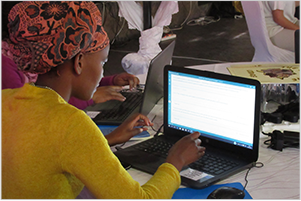 During these difficult days of war, unrest, persecution, poverty, and a global pandemic, people need the hope of the gospel. But many believers don't even have a Bible in a language they understand.
National Bible translators are waiting and praying for the tools and technology they need to change that—and they need help . . .
God has provided that help through a Matching Challenge Fund, which has been expanded by caring friends. So, your gift today will be matched, dollar-for-dollar—up to the total matching fund amount.
Please make a gift today to provide Bible translation technology and training to equip people who have never seen a Bible in their own language. Through your giving, you can help them launch the translation projects they have only dreamed of.
When you provide a Technology for National Translators kit, you provide:
• A computer with digital translation tools and a virtual library of translation resources
• A safe way for translators to work in hostile environments
• Opportunities for translators to work together across great distances
• The ability to store and back up all translation work—quickly and safely
• A platform for God's Word to be easily shared and ready to distribute
Each kit costs $1,500. Our goal is to say yes to as many translation teams as we can, while this Matching Challenge is available!
So, please make a gift that will be doubled by the Matching Challenge Fund to equip Christians in remote parts of the world who are asking for the tools to translate God's Word for their people.
Thank you for being a part of what God is doing through Wycliffe Associates to provide believers with His truth in a language they can understand!