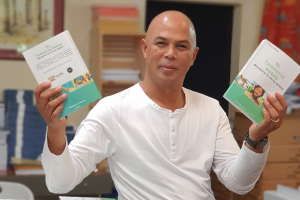 There is great celebration when language groups hold God's Word in their hands for the first time. Cheering! Laughter! Shouts of praise to God! Even flooding into the streets with thanks to the Lord—a spontaneous "parade for the Bible!"
This doesn't happen just because God's Word is translated into a new language—even though that is worth rejoicing over. This is because God's Word is finally being printed and held in the hands of those who labored over the translation, loved ones they want to share it with, and people who might otherwise never have such an opportunity!
This is why Print On Demand units—sturdy printing equipment that can produce thousands of pages of Scripture for people who've been waiting for generations—are so essential. They are an important missing link!
Right now, local churches in 32 languages are working to finish their Bible translation projects. These Christians are asking for help because they need to print the Scriptures in order to share them with their communities!
Would you please give as you are led to provide Print On Demand units for these 32 language groups? 
A basic unit—small and quiet enough to operate in secret, even in areas of anti-Christian persecution—costs just $2,000 each. Two of the language groups will need large-scale equipment at $25,000 each to reach a whole region with God's Word. So, we'll need a total of $110,000.
You can help deliver the joy of God's Word to communities that have been without Scripture. When you give today, you will help churches in these areas read, study, pray, and worship together for the first time from printed Scripture in the language of their hearts!
You can help provide the missing link—a Print On Demand unit—and help put God's Word into the hands of communities that have been waiting. What a wonderful celebration they will have . . . because of your generous giving today!