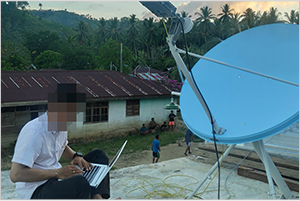 Despite the danger . . . in the face of fear . . . even through extreme isolation . . . local churches in remote regions of Southeast Asia are asking for help to translate God's Word for their communities.
National Bible translators have counted the cost, and they are willing to risk everything for the sake of providing their communities with the Bible in a language everyone can understand.
They just need internet access to be connected to the outside world!
Wycliffe Associates has developed a translation tool called Bible Translation Acceleration Kits (BTAKs) so believers in isolated communities can still have access to online Bible translation technology in order to provide God's Word in their heart language.
Each BTAK contains a satellite communications terminal, internet router, modem, and in areas where there is no electricity supply, a solar panel, battery, and portable solar-powered generator. This enables Bible translators to:
Collaborate online with others to work more efficiently and rapidly.
Access a complete digital library of Bible translation resources.
Check each other's work to ensure quality of translation.
Upload and store translation work immediately to avoid confiscation by hostile authorities or destruction of handwritten documents in the harsh climate.
Connect with fellow Christians for encouragement, prayer, and worship.
Your gift today will help provide national Bible translators—some experiencing persecution in Muslim-dominated areas and some isolated in remote island villages—with Bible translation tools to see God's Word translated into their heart language. These hard-to-reach communities will finally know that God speaks their language.
When you give today, our brothers and sisters will no longer have to endure persecution and isolation without the wisdom and comfort of God's Word!