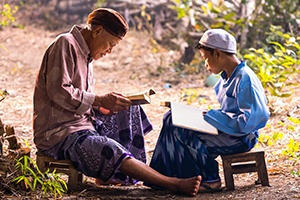 God is working in miraculous ways in remote villages and regions of a particular country in Southeast Asia. These places are so remote that few in the West have ever heard of their languages . . . languages nobody has ever translated the Scriptures in.
But right now, 30 isolated languages are ready to start a Bible translation project! They have the backing of their local churches, and the national translators are ready to begin translating. They are ready to hear God's Word speaking to them in their own heart language . . . they are ready to know that they are not forgotten!
Please give a generous gift today to help launch these translation projects, right now. It will take $19,500 to provide the resources and training for national Bible translators to begin their work . . . and to help launch all 30 projects, we need $585,000.
Just to show the power of God at work in this region, one translation project is continuing because a local Muslim leader wants to make sure it is completed! He wants to have literature translated in his language. It is an absolute miracle that someone who—in the world's eyes—should be an enemy of Bible translation is a powerful ally . . . ONLY GOD could make this possible!
There is real urgency behind this project because this country has the greatest need for Bible translation—more language groups here are without a translation of the Scriptures than virtually any other nation on Earth.
With your help, these 30 people groups will know that they are loved . . . and they will have the chance to hear God tell them he loves them in their heart language. Please help them to know God through their heart language with a gift today!