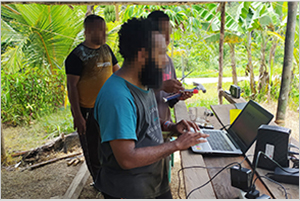 Those who have waited generations for God's Word are finally seeing their waiting come to an end. Where Technology for National Translators (TNT) is introduced, Bible translation is impacted powerfully.
One language group—made up of thousands of people who have never had a Bible in their native language before—recently received their TNT and training, and their joy could not be contained. They attempted Bible translation in the past . . . but with just a few translators struggling on their own with few resources, it took them six years just to translate the books of Luke and Acts.
Once their community received the Bible translation technology, tools, and training, they came together and were able to translate all but four of the remaining books of the New Testament!
And this is your opportunity to help provide this critical technology—laptop computers, training, and more—to help even more language groups who are still waiting to experience God's Word in the language of their hearts. 
A technology kit costs $1,500. To provide the 30 kits needed, it will cost $45,000.
The impact will be tremendous. Imagine those who have prayed for generations . . . they won't have to wait any longer. Your gift will be cause for rejoicing!
Today, your generosity will open the door for Bible translation to begin in language groups longing for God's Word! Please prayerfully consider your gift to provide technology and training for Bible translation.
So far you've raised: