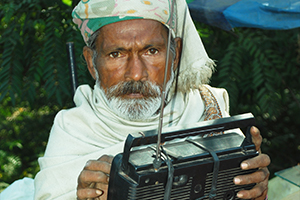 Even with the amazing advances of technology and internet access in the last decade, there are still language groups we have never been able to reach.
In some cases, we can't reach them because the terrain is so rugged, so daunting—no infrastructure, no roads in or out . . . there is almost no access to these areas. Others, we can't reach because authorities are so repressive that no American can travel there, and the region is extremely hostile toward Christians. Even their internet is monitored . . . just by logging on—they are being watched.
Even with these seemingly insurmountable roadblocks, we looked for a way to help isolated believers in these regions start Bible translation projects so they could finally have God's Word in their heart language.
And rather than creating a new translation tool, God opened the door with an old-fashioned technology that has been given a new and vital assignment . . . RADIO!
Wycliffe Associates has begun using radio to broadcast a message of hope into these isolated areas. Through these radio broadcasts, we are delivering incredible news to isolated believers: YOU CAN HAVE A BIBLE IN YOUR OWN LANGUAGE, AND HERE IS HOW!
We are ready to start broadcasting Bible translation training and resources for 35 language groups—people who need to know God's Word. It will cost $100,000 to reach these 35 new language groups with the training and resources they need to start translating Scripture.
Radio waves can't be stopped . . . your gift will have eternal impact, even in the face of hostile authorities and impossible terrain.
And as you give today, you'll become the fulfillment of Christ's promise in Acts 1:8: "You will be my witnesses in Jerusalem, and in all Judea and Samaria, and to the ends of the earth."
Please give generously—as the Lord leads you—to help get the Good News into the heart languages of those who live at "the ends of the earth!"