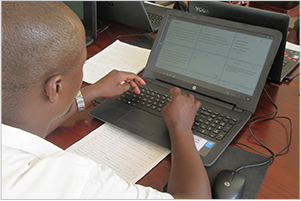 Praise God, we have the chance to reach 60 national Bible translators with the vital resources that allow them to start translation work safely, securely.
They are ready and waiting to start translating the Scriptures for their people. But most face crushing poverty, some deadly persecution.
Your gift today can provide the technology and training to 60 national translators that will allow them to get started translating Scripture—safely and securely.
Each translation kit costs $1,500 and includes a computer loaded with Bible translation software, space for backup and storage, access to a library of translation resources, plus the training they need to realize a longstanding dream of a Bible in the language of their heart.
The total amount needed to supply these translators is significant, but we have been given a Matching Challenge to bring the goal within reach!
A $60,000 Matching Challenge, given by caring Christian friends, will match your gift today, dollar-for-dollar, up to $60,000.
Please make a special year-end gift today so we can say yes to language groups who are waiting for the tools they need to begin translating, even in areas of intense anti-Christian persecution, poverty, war, and unrest. 
When you provide a Technology for National Translators kit, you provide:
A computer with digital translation tools and a virtual library of translation resources
A safe way for translators to work in hostile environments
Opportunities for translators to work together across great distances
The ability to store and back up all translation work—quickly and safely
A platform for God's Word to be easily shared and ready to distribute
Thank you for giving generously now to launch translation projects so God's Word can take root in the hearts of believers who do not have a Bible in a language they fully understand.