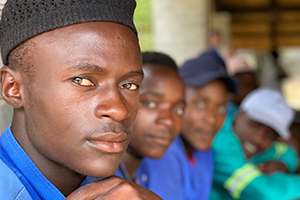 Many national Bible translators have completed their work. They are finally ready to see their labors come to fruition, honoring God and forever changing the lives of others who have never had the chance to see, hold, and share Scripture in their heart language.
But one giant hurdle stands in their way—they need a way to print the Scriptures they have translated.
Your gift today will help provide Bible translators with a "Print On Demand" (POD) system that will change everything for countless souls for this life and eternity! Your help is needed now to meet the needs of faithful friends who have worked so hard to see God's Word in their language.
These funds will provide the appropriate equipment—a high-capacity POD system, which costs $25,000 and can print God's Word for whole regions or, in areas of persecution or unrest, a small, quiet, mobile system for $2,000. This mobile unit allows believers to print copies of Scripture quickly and work out of sight from hostile authorities.
Please make a gift now to provide the POD equipment that will push these translations over the finish line!
Consider the impact of your gift on someone like this elderly woman in a remote region of Africa, who finally received God's Word printed in her own heart language. She looked up from the page and declared that her life was now, finally, truly complete, "Because God is speaking my language!"
Thank you for giving generously to complete the final crucial step in Bible translation, providing printed Scripture that will take God's Word into areas where Christians are persecuted . . . where witchcraft and ancestral worship have enslaved millions for centuries . . . and where the Word of God has never been known.
Thank you for your prayers and support at this important time for dozens of completed translations!