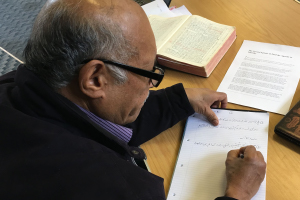 It's not if national Bible translators will get thrown in jail—it's when. This is the reality that local believers in parts of the Middle East face daily.
But they are not asking to be saved from persecution . . . they are only asking for the tools that will help them put on the full armor of God as they strive to live for Christ in a hostile land. They are asking for God's Word in their heart language!
These are areas of intense persecution and danger, but by God's grace, we are working to help 7 more language groups start Bible translation projects. These are people who have never seen the Scriptures in their language and who need help to begin translating the Bible . . . tools, training, and resources!
Wycliffe Associates has developed software to allow Bible translators to start and complete their translations entirely online. Even in the midst of a pandemic, travel bans, and extreme persecution, God's Word can still be translated into the heart language of these 7 language groups because of this technology.
Your gift today will help provide computer hardware with Bible translation software, access to digital translation resources, backups for their work, and the training to make it happen—allowing national translators to work under the radar!
With your gift today, you will help give local churches everything they need to bring God's Word to their people—for 7 entire language groups—who have never had the Bible in their heart language!
The greatest gift you could give Christians in the Middle East—those who are longing to translate God's Word into the language of their hearts—is the tools, the training, and a secure way to work. Please give as you are led, today!