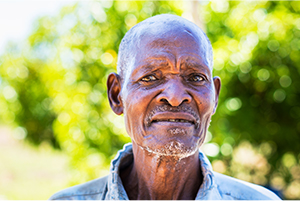 This year, Nigerian Bible translators have suffered in tragic new ways.
With the onset of COVID-19, the government locked down the nation, and jobs—even meager wages—disappeared. In areas of serious poverty, Bible translators and their families found themselves facing hardship and hunger, more painful than anything they had ever known.
It didn't seem possible that things could get worse. Yet now, their agonies have multiplied even further. Roving bands of Fulani herdsmen—jihadists even more vicious than Boko Haram—have gone on a rampage against the region's Christians. In a single month, they've killed 18 people in one town and 25 in another.
When we reached out to our Nigerian coordinator to ask how they were faring, his description of their situation was heartbreaking: "Unbearable."
Yet, the cry of these national Bible translators' hearts is not focused on money, or food, or medical care—not even physical protection. The three perils—pandemic, economic collapse, and terrorism—have suspended their Bible translation projects in 30 languages.
They're pleading for help to restart these Bible translations!
National translators need help providing a safe place for translation workshops, and they need the translation tools to complete their work.
God has raised up a network of pastors who long for His Word in their heart language and who are willing to take any risk in order to do the work—they have the translation teams ready to go . . . they have already sacrificed so much so that their people can know God in the language of their heart.
In their world of danger and deprivation, they cling to the Scriptures. There is nothing else solid, no other place of comfort, of strength, of refuge.
Will you give a generous gift today to help provide the translation tools they need?
Your gift of Christ-like compassion today to help restart translation projects will be cause for rejoicing among the Christians of Nigeria!
Any gift you can give today will help.