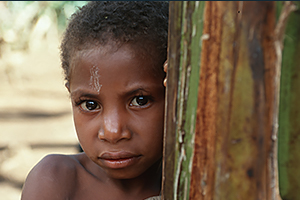 This is alarming—in many remote areas of Indonesia, national Bible translators are cut off from the internet. They can't access online translation resources—can't upload, can't back up, can't protect their translation work.
At the same time, there's disturbing news from the Solomon Islands: National Bible translators in 18 language groups are not able to finish their translations—their translation projects have come to a complete standstill. Their support from other outside resources is not available. The workers were making awesome progress, but now their translations have stopped.
Both groups are stranded. They've sent us heartfelt messages asking for help. We could provide tools and training in the Solomons—tablets with software, essential support to complete the final steps of their translations—and we could provide the technology for the Indonesians to work . . . with solar-powered satellite modems to get the translators online.
But all of this would cost $225,000 we didn't budget for.
Please understand: these needs came up unexpectedly. This wasn't a planning problem. It's not a budget error. But God has put you and me in a position to help—to get Bible translation "across the finish line" for multitudes of people.
Can you please help tell them "yes"?
Please pray about giving a generous gift so we can tell the Christians of Indonesia and the Solomon Islands, "Hope is not lost. Help is on the way. Your people will have Bibles, in the language of your heart, very soon!"
Thank you for understanding—and responding from a heart of love. God bless you!