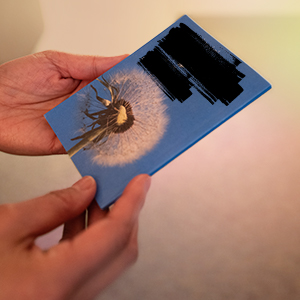 THIS IS THE MISSING LINK!
To get so close to the finish line . . . to be just within reach of sharing God's Word with someone in the language of their heart for the very first time in their lives . . .
To see national Bible translators giving their all, risking their lives, using computer tablets and software to translate the Scriptures for their countrymen . . . but then to fall short—because those deeply dedicated Christians can't print Bibles for their people . . .
That's a heartbreaking scenario.
But today, you can rewrite this scene.
We have received requests from hundreds of language groups who have no Scripture in their heart language. Some have waited generations. Now, thanks to the innovative MAST strategy—Mobilized Assistance Supporting Translation—they have finally been able to translate God's Word for themselves. But their people still need printed Bibles.
The missing link is high-capacity "Print On Demand" equipment so national translators can produce thousands upon thousands of copies of the Scriptures for their people, doing it quietly and safely in areas of intense anti-Christian persecution. 
Today, we have requests for 3 high-capacity units and hundreds of smaller units—together having the potential to reach tens of thousands of people who have been waiting generations. 
A single high-capacity Print On Demand unit costs $25,000. Would you please pray about giving today to help provide national Bible translators with the printing equipment they need to share Bibles with people in the language of their heart? 
Without Print On Demand units, multitudes will keep waiting to experience God's Word in the language of their heart. But you can end their wait!
Any generous gift you give today will transform lives by the power of God's Word. Thank you! God bless you!