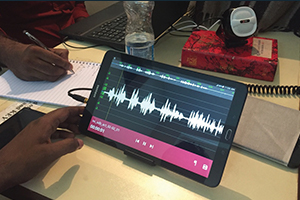 In an intensely Buddhist country—overshadowed by spiritual darkness—a small group of local believers reached out to us, asking for help to have an audio translation of the Bible in their language. This people group was among the most utterly unreached on the face of the earth, deeply entrenched in false teaching . . . totally antagonistic toward Christianity.
And many people in their language group do not read. A written Bible translation would not be enough! National translators needed a Bible Translation Recording Kit (BTRK) with a computer tablet, microphone, and software for translating and recording. They worked faithfully, despite extreme spiritual warfare, to translate and record God's Word in their heart language—and almost immediately, when the Scriptures could be heard, a Buddhist man from their village came to faith in Christ!
For people groups with no written language, or for those who can't read, the only way they will come to know God's love and the power of His Word is if they hear it.
When people hear the Scriptures for the first time in the same language they think in, dream in, and pray in—they're transformed—because Romans 10:17 is true: "Faith comes by hearing!"
Right now, we have requests for 479 more BTRKs from other language groups in need of God's Word. To provide a BTRK, it will cost $500—and to meet this serious need for each of these 479 requests, it will take a total of $239,500.
Generous friends have stepped forward to give $55,000 toward a BTRK Matching Challenge fund. This is a wonderful start, but there is still a long way to go—and we need you!
Please give today to help spread God's Word in some of the most spiritually dark places on earth . . .