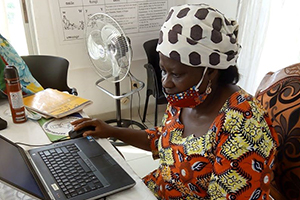 As COVID-19 advances into every corner of the world, you might expect national Bible translators to back down from their work. But no. THEY WILL NOT QUIT. They desperately want to reach their people.
The pandemic is making multitudes question their own mortality. People want to know the God who holds the future. But Christians need the Scriptures, in their own heart language, for personal evangelism and discipleship. 
National Bible translators urgently need God's Word in the heart languages of their people in order to seize this moment for the cause of Christ! They need the tools to work remotely, safely, even in "lockdown"—computer tablets, Bible translation software, satellite internet connections, power supplies, and training. 
There is a wonderful solution for many of them in our online Bible translation system called V-MAST (Virtual MAST), which enables translators to complete entire Bible translations online without having to be in the same location!
But in the face of the pandemic, we've had to cancel many of this year's fundraising events. Donors like you typically give hundreds of thousands of dollars at these events each year to accelerate Bible translation. If we don't raise these funds this year, we won't be able to provide all the technology and training needed for language groups planning to begin their translations. 
We don't want to tell our brothers and sisters to keep waiting. Many of them have waited for generations. They are pleading for us not to leave them stranded.
National Bible translators have faced arrest, torture, property seizure, drought, famine, polluted water, malaria, dengue, Ebola—and death. In the face of COVID-19, they are unmoved. They are trusting God. They are pressing on. We must also press on.
Thank you for seeing the urgency of the situation and giving from a faith-filled heart of Christ-like compassion today. God bless you!