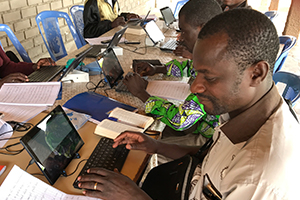 National translators are ready to start translating God's Word for their people! But, they can't translate God's Word without the right tools—they need computer tablets.
For generations, these language groups have waited for the day they would have God's Word in their language, and today is the day! God, in His infinite grace, has made a way for us to equip local Christians for Bible translation with our MAST technology—Mobilized Assistance Supporting Translation—in a virtual format. We call this V-MAST.
An essential piece of technology for a V-MAST workshop is a computer tablet loaded with translation tools. This gives national Bible translators access to a library full of translation resources and the capability of collaborating with other translators online!
It costs just $300 to provide a tablet for national translators.
We have requests pouring in from all around the world, so many that we cannot keep up . . .
Your gift will empower local believers to help put God's Word into their heart language . . . help keep national translators safe while they are translating . . . and help end generations of waiting for God's Word!