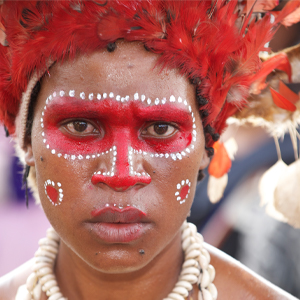 Right now, in some areas of Indonesia, COVID-19 has brought Bible translation workshops and training sessions to a screeching halt. Many Christian villages in remote areas of the country have no internet access—so their options for online Bible translation training and resources are also cut off.
Here is the bottom line . . . without the internet—and these online tools—Bible translation projects are stalled!
We can be the answer for national Bible translators who are trying to get God's Word into their heart language. We can provide Bible Translation Acceleration Kits (BTAKs)—solar-powered satellite modems—to allow Christians to gain access to translation tools and resources needed to connect with other national Bible translators and start translation projects through our virtual Bible translation program (V-MAST).
Without these BTAKs, their translations are at a standstill—communities will have to keep waiting to have God's Word.
We must act now. Local translators have been planning for months to start their translation projects this spring—they do not want to delay any longer. Right now, they are living in the uncertainty of COVID-19 that has suddenly isolated their communities. They are praying for a solution to see their translation project move forward, and we can provide the answer!
We need to provide 50 BTAKs for these communities, at a cost of $75,000.
Even as COVID-19 wreaks havoc on daily life, you can help these translators move forward—what a wonderful way to advance the gospel during this time!
And a generous donor has seen the need and provided a $20,000 matching challenge—that will DOUBLE the impact of your gift up to $20,000—to help start these translations!
The enemy thinks he has won—he thinks these Bible translations have stopped for good. But your gift of compassion today will give national translators the opportunity to finally start their translations and have God's Word for their communities.
The reality is that this part of the world is going to be affected by the pandemic for some time, but we are longing to see these at-risk translation projects come back to life by the end of April.
Please join us, and help these translators today!
We had planned to raise funds for 50 of these kits. But the isolation of Christians in rural villages is so widespread due to COVID-19—we have to do more! Let's help provide BTAKs to 10 more language groups! AND—a friend of Bible translation has been deeply moved by the need and has offered us an additional $3,000 matching challenge gift! This means gifts given today will be DOUBLED up to the $3,000 matching challenge amount!